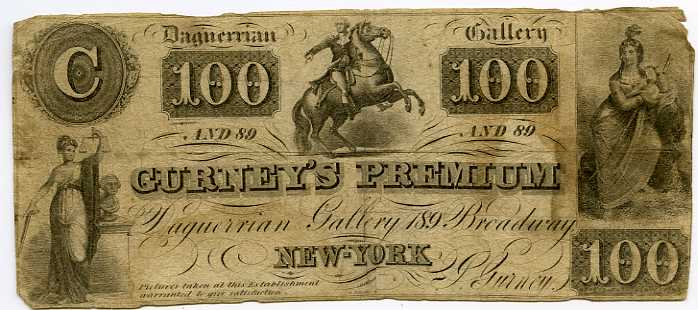 This extremely rare advertising item for the Daguerreian Gallery of Jeremiah Gurney measures 7x3 inches, and extremely fragile. Printed on, literally, tissue paper, it is amazing than it has survived more than 150 years. The scrip was issued, generally, to be redeemed for pictures, although in this case there is no amount specified. The "100" in large print is part of the address of "100 and 89" (189) Broadway, New York City, the location of the gallery. His gallery was listed at this address in the New York City directories from 1843 until 1853. The minute wear to the corners of this piece can be see, as well as the light age stain at the right. Overall, an extremely rare piece of photographic ephemera, and eminently worthy of any serious collection. $1800.00

Jeremiah Gurney (1812-?) was one of the most well-known and respected photographers of his time; his photographic career spanned four decades, from 1840 until 1874. The following is information compiled in Craig's Daguerreian Registry (revised edition, 2003):


Before learning the daguerreotype process, c. 1840, he operated a jewelry store at 18-1/2 Maiden Lane, New York City, N.Y., in 1839-1840. Following his introduction to the daguerreian process, he opened a gallery on Broadway. He was not listed in the New York city directories until 1843-1844, when he appears as a daguerreian at 189 Broadway. His residence was listed at 80 Greene Street. His gallery remained at the same address through 1853, with varying residence addresses.


In 1846, 1847, 1848, 1850 and 1851 he exhibited daguerreotypes at the American Institute Fair, New York City. In 1850 he pioneered mammoth daguerreotype plates, and at the American Institute Fair in 1851 exhibited eleven double full plates and six half plates.


Sometime between 1848 and 1854 (and possibly for the entire period), Gurney probably employed A.B. Weeks as a daguerreian.


In 1851 he also exhibited at the Crystal Palace, London, England. It may have been about this same year that he employed Caleb Hunt as a daguerreian. Hunt eportedly worked for Gurney prior to establishing his own gallery in Cincinnati, Ohio.


From 1851 to 1855 he lived at 53 Baltic Street, Brooklyn. In March, 1852, fire damaged his gallery. In June, 1852 he purchased the Whitehurst gallery at 349 Broadway, at the corner of Leonard Street. The gallery reportedly had been destroyed by fire; Gurney refurbished it and operated it as a second gallery for a short time. He advertised both galleries in an ad in November, 1852. He sold the gallery at 189 Broadway, and effective February 1, 1853, only operated at 349 Broadway.


Sometime prior to 1853, he employed J.I. Pacheco as a daguerreian; the Brazilian native also worked for M. Brady and H. Insley before returning to his native country in 1853.


During 1852-1853 he employed T. Hayes and W.A. Perry as camera operators. In 1852 he was also noted in partnership as Gurney and Litch (A.); the partnership was not listed in the New York City directory. An advertisement in November, 1852 by Gurney noted chemicals by Gurney and Litch.


In 1853, he received honorable mention at the New York Crystal Palace exhibition, and also won the Anthony prize competition. The same year, he exhibited again at the American Institute. Solomon N. Carvalho was employed by Gurney in 1853; and reportedly from 1853 onward Gurney used primarily paper photography processes. He advertised that year as taking "mezzographs."


In late 1853, C.D. Fredericks began working at the gallery, and in 1854-1855 was listed in partnership as Gurney & Fredericks. The firm may have also employed a "Mr. Penabert" at that time as a daguerreian.


The Brooklyn city directories lagged a little behind, continuing to list him at 189 Broadway (New York City) from 1853 to 1855. From 1855 to 1857 he was listed in partnership as Gurney and Fredericks (C.D.). From 1855 to 1859, Gurney lived at 332 Henry Street, Brooklyn. He continued to exhibit at the American Institute each year.


An advertisement in the New York Times in late December, 1854, noted the gallery at 349 Broadway, and that Hayes, Perry and Johnson were employed as operators (Johnson appears to be a new addition to the family). The ad also noted that the photograph rooms were under the direction of (C.D.) Fredericks of Paris, France; and that Santain and Martain attended the pastel studio, as colorists.


We're guessing here, but it may have been c. 1855 when Gurney employed a James Forbes; he was reported to have worked for Gurney in the "early days" of wet plate photography, probably before he opened his own Philadelphia gallery in 1856.


In 1855-1856, A.A.Turner was listed as a daguerreian at the 349 Broadway address, and was probably an employe of the gallery.


Vuillon and Hoefer were listed as artists who ran the "miniature studio", which Gurney operated for copying daguerreotypes, etc. The ad also noted a branch gallery at 46 Rue Vasso du Rempart, Paris, France.


From 1857 to 1869 his gallery was listed at 707 Broadway, New York City. In 1857, he was noted in partnership with John Bishop Hall, making and distributing Hallotypes. This partnership was not listed in the New York City directories. From 1858 to 1860, he was listed as photographic artist, 349 Broadway. Sometime in the late 1850's he may have employed Samuel J. Miller, a former daguerreian in Akron, Ohio, as a "poser." This was the assistant who posed the sitter for the camera. In 1860-1861, he was listed as a photographist at 707 Broadway, in business as J. Gurney and Son, with Benjamin Gurney.


In 1874, the Gurney and Son partnership was dissolved. Benjamin Gurney continued to work at Kurtz's old gallery at 872 Broadway.