(860) 496-9791·····P.O.BOX 1637,TORRINGTON, CT 06790······FAX: (860) 496-0664
TOLL-FREE ORDERING 1-877-572-3686
CONTACT, ORDER
ORDER FORM

E-MAIL

INFORMATION BOOTH
Terms of Sale/Ordering/Peace of Mind
Meet the Boss
Detailed Site Index
NOW LOOK
INSTRUCTION MANUALS

PHOTOGRAPHIC LITERATURE

Daguerreotypes, Ambrotypes and Cases
If you arrived here directly from a search engine, please hit your "reload page" button. Search engine cached pages may not be current.
Prices do not include shipping
All listings current.
We realize that no photograph or scan of a daguerreotype or other image can be a 100% perfect reproduction. We do our best to accurately reproduce and desribe the images, but your final acceptance can only come when you actually hold the image in your hand. We will gladly accept a return of any image that does not meet your expectations, provided you notify us of your intention to return it, and it has not been tampered with in any way.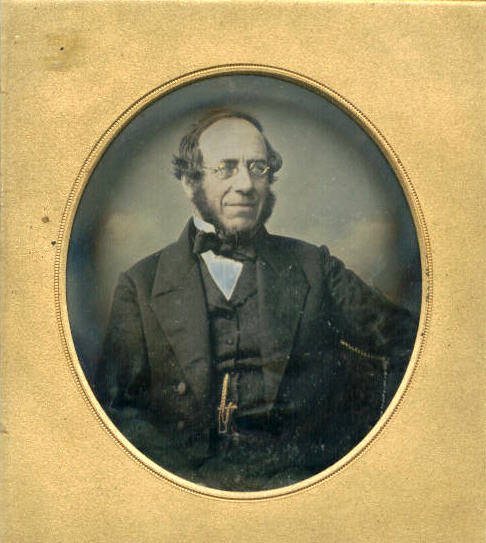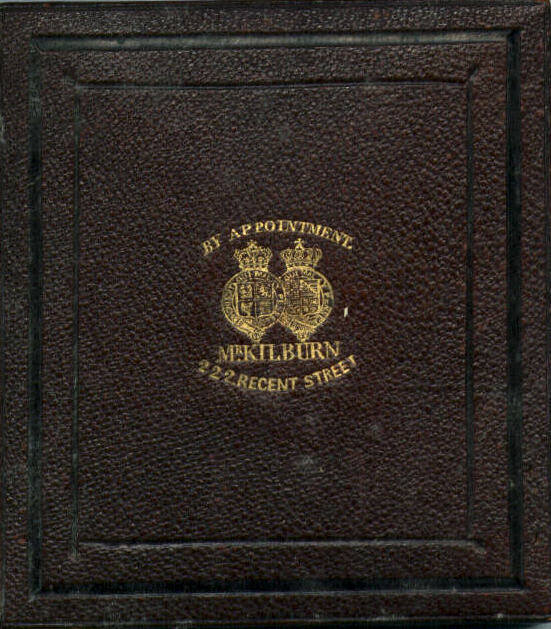 #31958: WILLIAM KILBURN: TINTED PORTRAIT OF A GENTLEMAN

A beautiful delicately tinted portrait of a bespectacled gentleman in the slightly smaller European quarter-plate size (the height of the oval opening is 2-34"; overall size of the mat is 3-1/4x3-3/4"). The background has a light blue coloring to it, with a slight halo of tarnish; flesh tones are delicately tinted as well, with the addition of gold tinting on the watch fob and chair braiding. Gold highlights have also been added to the spectacles. The image is not sealed, and was never intended to have a preserver. The original push-button leather case is embossed "By Appointment Mr. Kilburn 222 Regent Street." While Kilburn opened a daguerreian studio in London as early as 1846, he was apparently not active at the 222 Regent Street address until 1856. And while I have no reason at all to doubt that this image and case are both original to each other, the image does appear to me to be earlier than that date. Overall Excellent and an outstanding example of Kilburn's work. $875.00